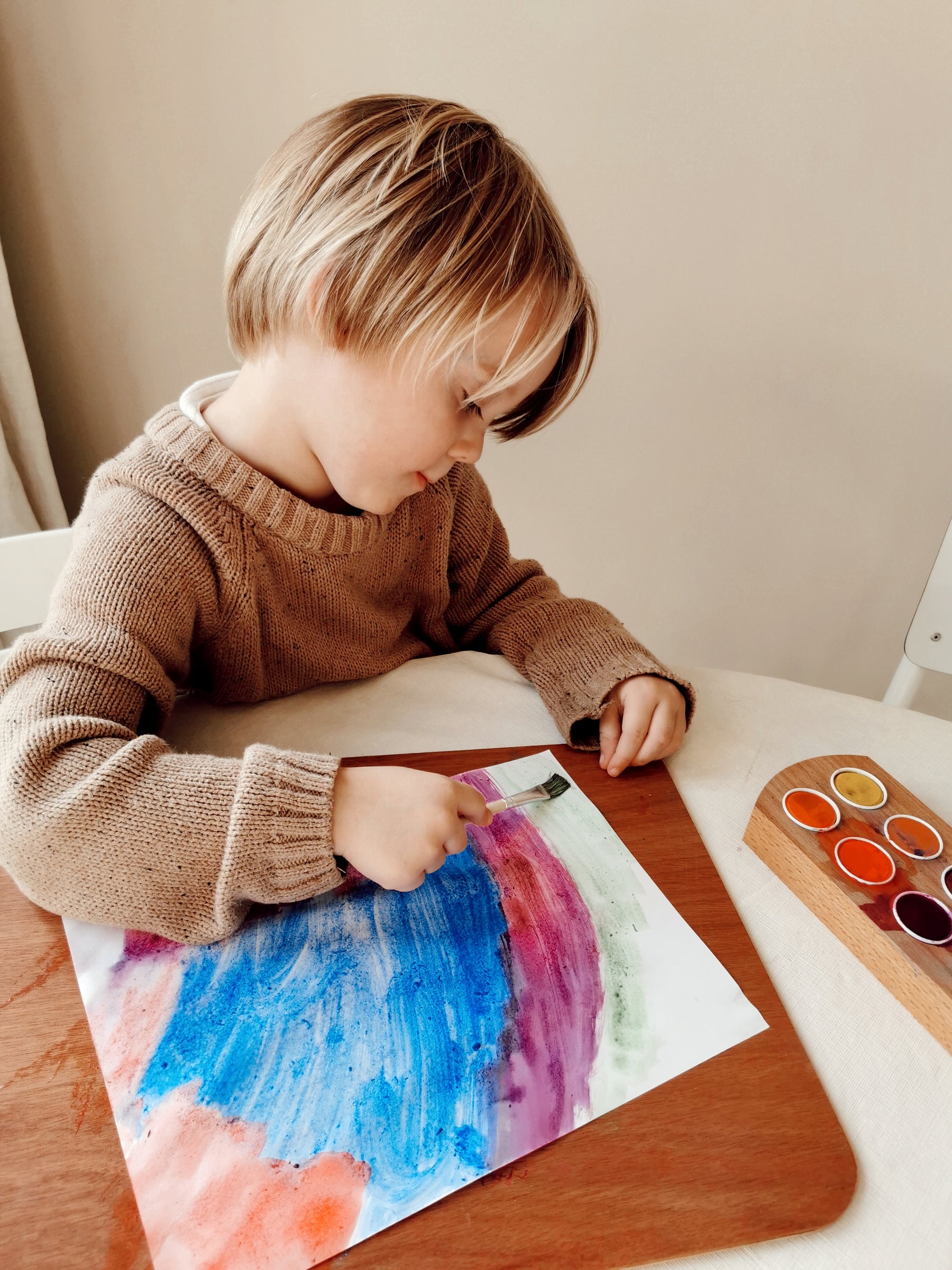 Winter painting - @spelendopfeeden
Brrr… it's winter. Will we get snow this year? And if not, we'll just make our own winter world! Let the kids do magic with watercolors with this creative activity. A nice activity on a real winter's day.
 What do you need?
The preparation
I did this activity with my 3 year old toddler, but you can do this with younger or older kids too. While my daughter was playing, I prepared the activity. This made the surprise effect even greater.
lay it paper on the table. You can search the internet for an image of a snow star. Make with the white crayon spread over the paper some snow stars.
They don't necessarily have to be the same size. It's fun to discuss the size of the snow stars while painting. Which is the biggest? Which one is smaller? What is the smallest? How many snow stars do you see?
Working with the watercolor
After the snow stars on the paper my daughter got to work. You can of course let your child determine the colors themselves, but I think purple and blue are real winter colors. on with the watercolor about the paper to go the snow stars appear. My daughter really enjoyed discovering the snow stars and was always enthusiastic when she found one.
Older children can also see the snow stars themselves on the paper draw.
Instruct your child to paper with the watercolor to cover. By painting the two colors (purple and blue) over each other you get a beautiful effect.
Allow the artwork to dry thoroughly after painting. It paper is quite thin, so it is nice to have it colored afterwards paper to paste. So it becomes more of a painting. You can also cut out the snow stars and turn them into a winter or Christmas card.
I think it's a really simple way to be creative together. With little stuff you can make something very beautiful and it is fun for all ages! Have fun with this creative winter activity. We'd love to hear from you if you get started on this too!
I want Linda ( @playupfeedingThank you so much for writing this wonderful blog. For more inspiration I would definitely take a look at her instagram page -  Melanie