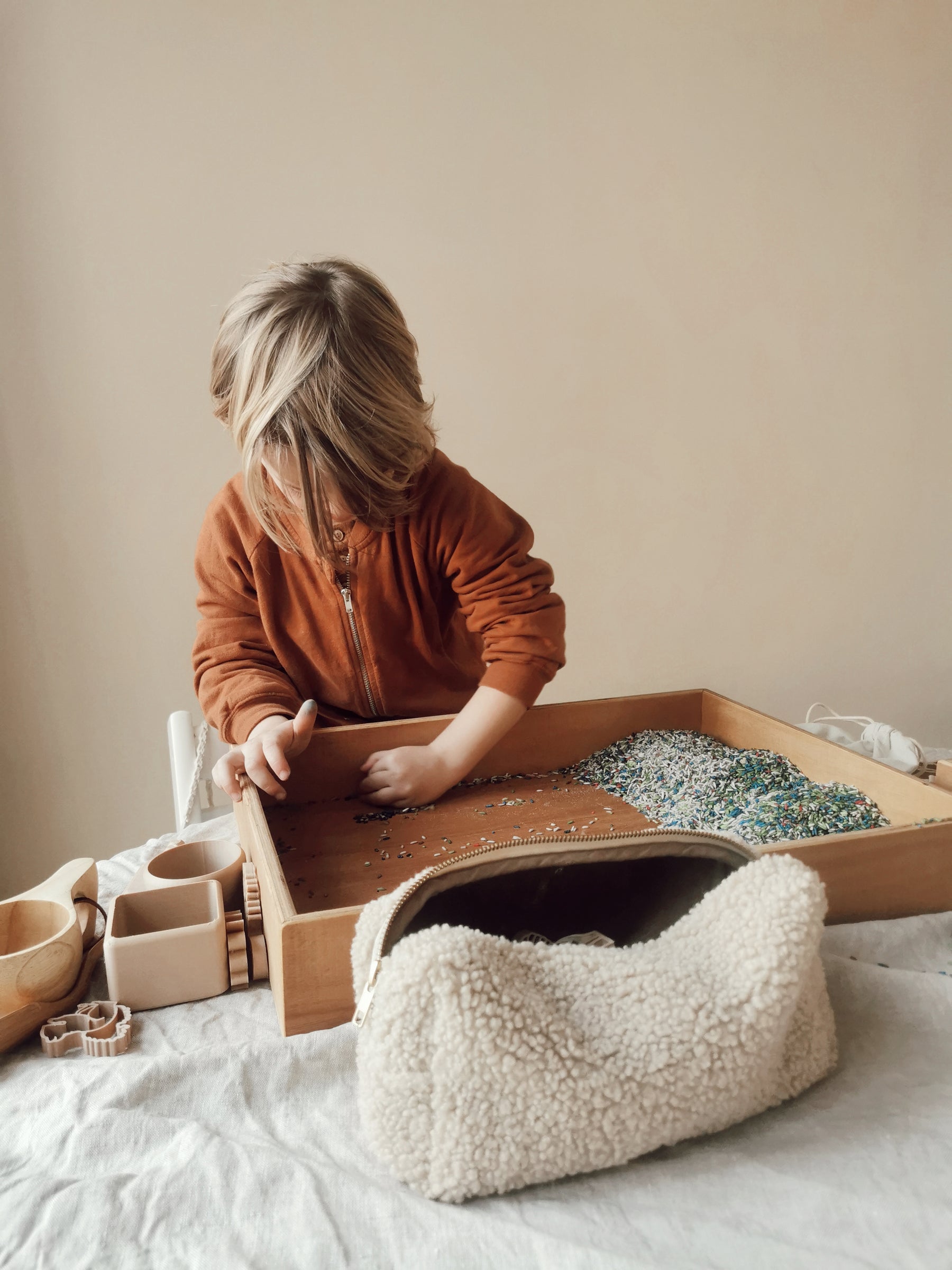 Looking for a new way of stimulating - @puurjael
The title actually says enough. Everyone is demotivated in a different way. One also suffers more from these stimuli than the other. For our oldest we are looking for a way to de-stimulate, apart from the tablet. Then I came grennn against on Instagram. As if it had to be. I ordered a set of play rice, play bowl and plugs. This is what the children get together for Sinterklaas. I hope it will help them.
What does Grenn sell?
Grennn makes beautiful homemade products. Made of wood and durable plastic. Play rice and play sand, a container where it can go and plugs. A wooden drawing board. Another way of playing that we don't like very often here at home. But that really appeals to me as a parent. Why do we try anyway? Because I hope to find a way that our eldest can unexcite. Being "on" all day and night is not good for you.
Is that still fun for our oldest?
I contacted them, the owners of Grennn. Because well, our oldest is already 8 years old. We search for him, highly sensitive child , a way to de-stimulate. Is this still suitable? Certainly very suitable, I received as a response. With a detailed answer and photos. What a service. I decided to fill my basket and order. After I had waited a while for the Sinterklaas plugs. A great present he received from Sinterklaas last Saturday.
What have we bought?
I ended up buying the following:
Grennn gave us a few more plugs as a gift. Super sweet. As a result, we can also let our youngest learn with letters in a playful way. They can play with even more plugs. And it really has become a very complete set. Beautifully packed. And on the box are the names of the children.
Stimulate by playing
Although I first thought that you can mainly de-stimulate by doing nothing, that is not true. Of course it varies per person. But you can also de-stimulate very well by playing. Just by working with your hands. This is also very good for the physiotherapy of our oldest. With the rice and the play sand, he can practice writing letters, just like you can with shaving cream.
Grennn's is now on my favorite list
I'm excited. For real! I hope our kids are just as excited. It looks so beautiful. It is packed so carefully and with love. Really go and have a look there. There is bound to be something for you too. Anyway, I'll keep an eye on their instagram. All the news will be there. And there are again very nice plugs. Worth following.
I want Minke ( @puurjaelThank you so much for writing this wonderful blog. For more inspiration I would definitely take a look at her website www.puurjael.nl - Melanie