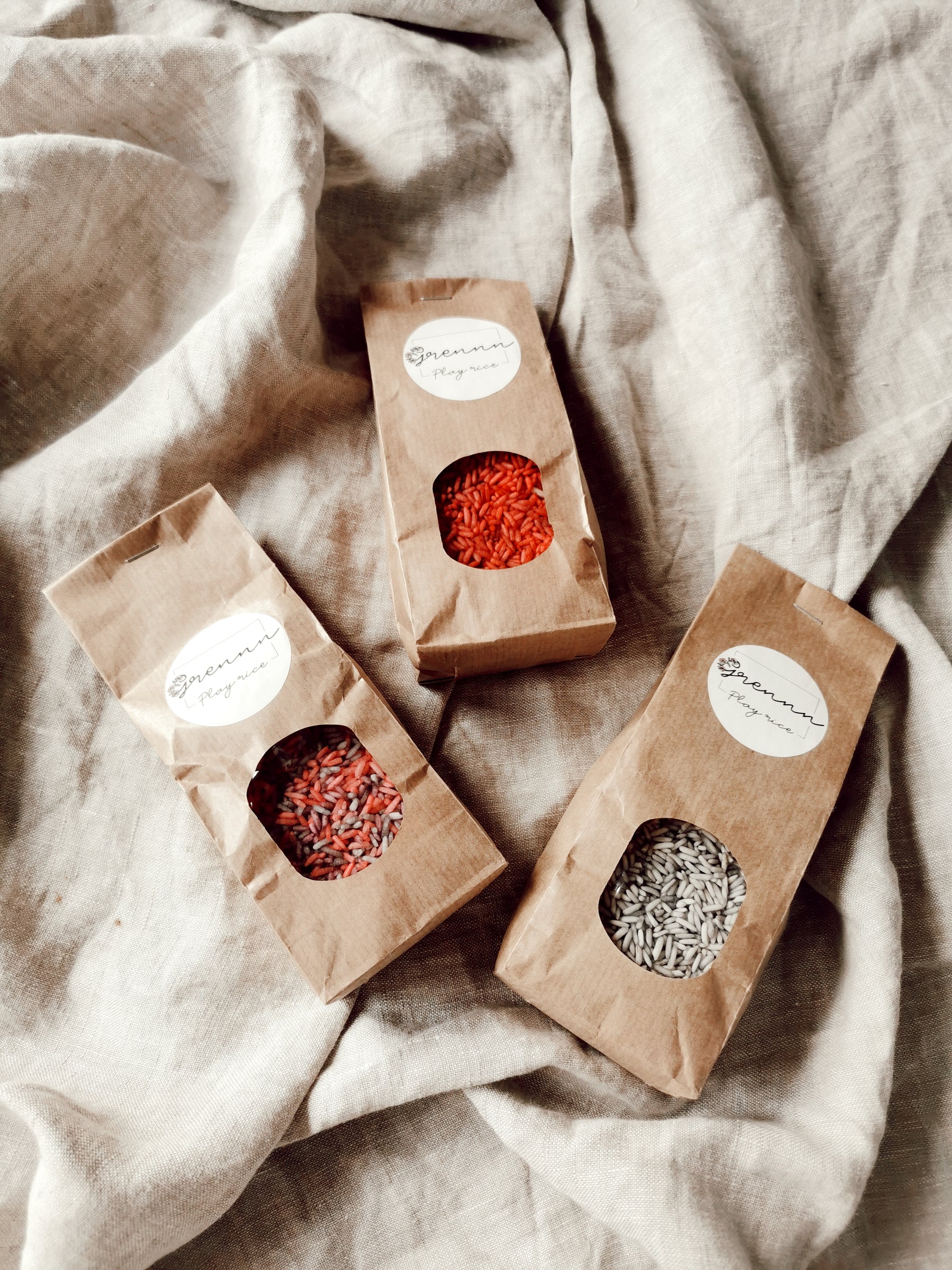 Mina & playrice - @Michellebindels
The package
We received a carefully composed package with Sensory play items.
In addition to four bags Unicorn play rice we received two beautiful handmade play bowls and a scoop† There were also different types protrusions with, these can be used in combination with (kinetic) sand. 
All products are handmade and made of sustainable materials. The protrusions are in nice linen bags. A present to unwrap!
Sensory Play
What do you need: a play box or tray, play rice in small accessories† next to two play bowls and a play scoop I filled the tray with (sand)protrusions, wooden beads and pompoms in different sizes. This invites you to discover and stimulates the senses. 
To work
Mina's first question: "can I eat this?". Yes that is allowed! The play rice is colored with food coloring and is therefore completely safe. 
She thought the first touch with the play rice was a bit crazy, but she soon got the hang of it. The play bowls were filled and shaken out again and also the protrusions came in handy. Bowls of soup and cups of tea in the form of rice passed by. 
The tray moves daily from Mina's play table, to the play mat and back to the play table. But they also play with the at the dining table rice. 
Unwind in her own imaginative world, fidget and relax at the same time!
Finally
Sensory play knows no right or wrong. With as few instructions as possible, your child can give free rein to his or her imagination. To do!
i want michelle ( @michellebindersThank you so much for writing this wonderful blog. For more inspiration I would definitely take a look at her instagram page - Melanie
In the photo you can see the following products:
* Grennn Play Rice Unicorn
* Grennn Unicorn and magic wand cutter
* Grennn Butterfly and flower cutter