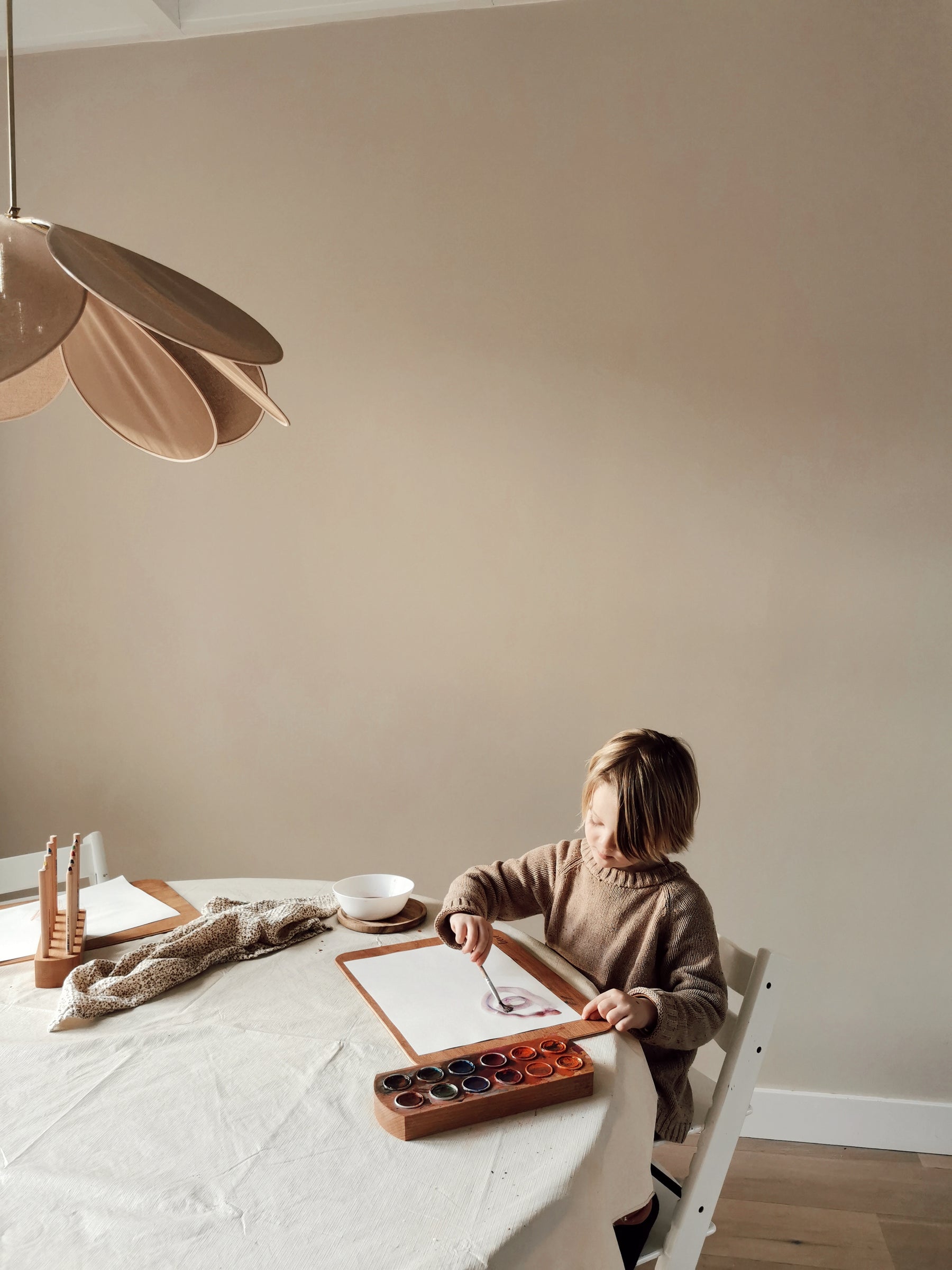 Watercolors with salt - @Gerriëtte_
Review Watercolor products from Grennn.nl
Tutorial: Watercolors with salt
As a creative mom with a toddler, I know how much fun it is to tinker together. We both love to paint, but we sometimes disagree about the end result - and especially the way there.
From Melanie and Jonathan we received a package full of painting supplies to try out. For some time I had the beautiful wooden products from Grennn for our daughter. The fact that they are a bit more expensive than the average painting sets you can find in any toy store actually held me back. But I can honestly say: it is well worth the money!
Our daughter really enjoys tinkering, but is not very strong motor. I notice that I don't get the painting supplies ready for her so quickly, because it always gets messy. The jar of water usually falls over within five minutes. And after two brush strokes, she prefers painting with her hands.

When testing the Grennn Watercolor holder with 6 colors and the Glue pot holder beech incl jar and brush, Nanne immediately started working on her own. And it went wonderfully well! She used the water pot holder without knocking it over once. She also remained the brush use instead of her fingers. The Grennn Watercolor holder with 6 colors is handmade from a nice quality wood and therefore does not slide away so easily, unlike the cheap plastic watercolor sets that we used before.
Both the Grennn watercolor holder and the glue pot holder are very nicely finished. Thanks to the wax layer, both products are just as easy to clean after use as promised: a simple damp cloth and the watercolor holder in glue pot holder look like new again! I also think the products are even more beautiful in real life than in the photos on Instagram.
So I am very enthusiastic about the products of Grennn† I even bought a large painting board for our daughter. This personalized painting board is a handy, flat surface that makes any place suitable for crafting. 
Tutorial: watercolors with salt
This watercolor tutorial is ideal to do with the little ones. It takes very few painting skills to achieve a beautiful result.
What do you need:
Fill the glass jar of the beech glue pot holder with water. Let your child have a skin Therapist paper wet-on-wet 10 sheets 25 x 32.5 cm wet with a brush. Then give the Grennn Watercolor holder and let your child spread the different colors of paint on the wet paper† When your child indicates that the artwork is ready, sprinkle coarse sea salt over it together. Let the drawing dry horizontally. The salt grains absorb the moisture of the paint and thus the most beautiful natural motifs are created in the wet-on-wet painting.
I want Gerriëtte (@Gerriette_) for writing this blog. For more inspiration I would take a look at her instagram page - Melanie