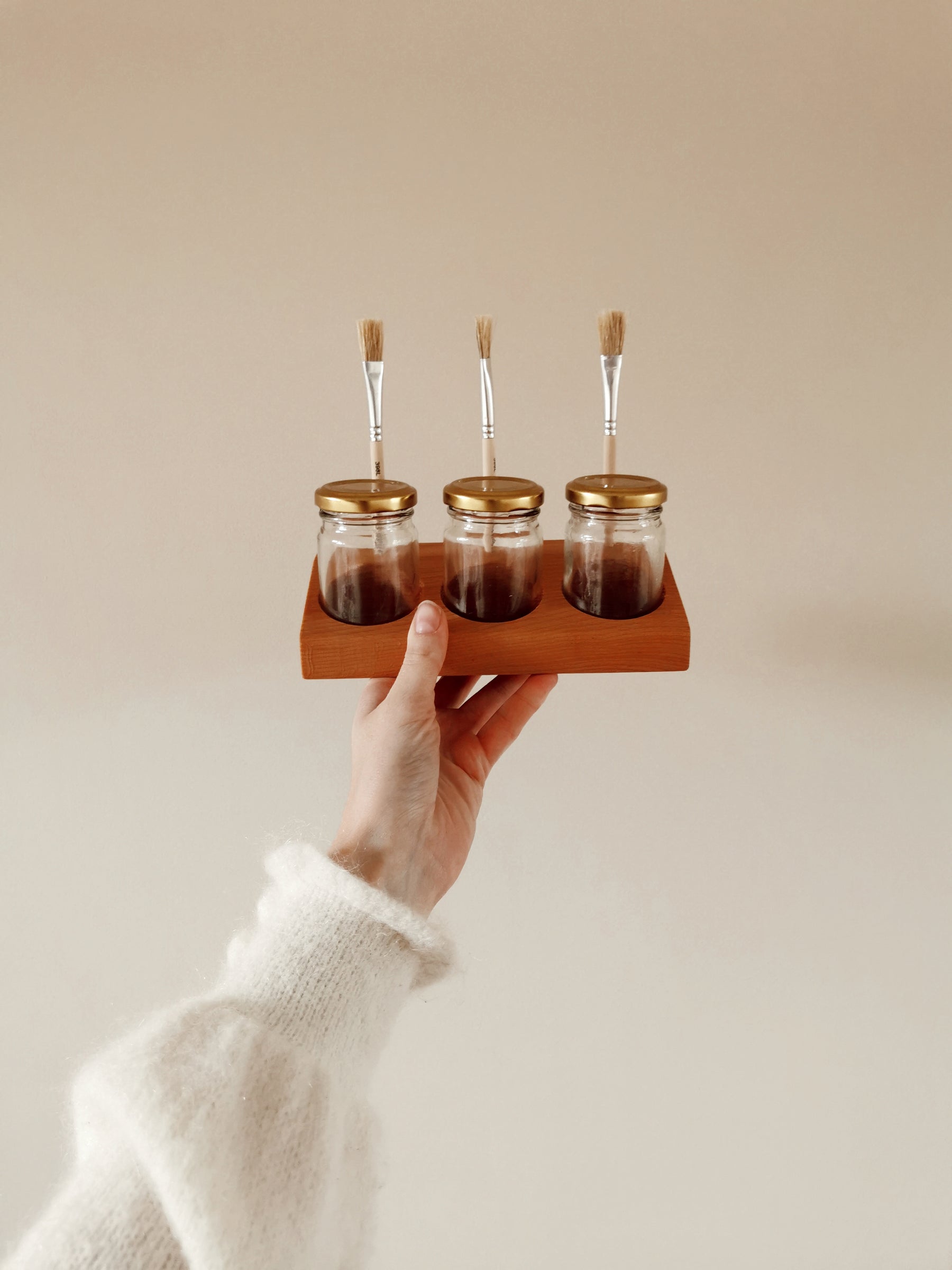 Get creative with beeswax crayon and paint holder - @wwwcreationsbyastrid
Get creative with beeswax chalk and paint container

What a party it was to open the package from Grennn.
A beautiful bag with beeswax crayons, not small sticks, but nice and big. Good for small toddler/preschool hands.

Nice bright colors and nice shape. A honeycomb and bees.
I was completely drawn to it myself to get started. That was a great challenge for me to color and draw with large chalk.
But the toddlers at our school, the Stam, also knew how to handle it. Dissolve staining was fun. Precisely because it was so nice and big and so easy to hold, it was wonderfully scratched. Lose the energy for a while, scratch everything out and then continue more calmly.

That is the advantage of such robust chalks, they will not just break even with a little harder handling. As many washing sticks sometimes can.

Then I took out the beautiful paint holder with jars and brushes.

What an invention!
The jars are wonderfully next to each other, but they are super stable in the holder, so you won't easily knock them over. If it is not the children, who sometimes manage to do this in their creative process, then this teacher can also do something about it.

For each jar its own brush, super nice! For the children we have used primary colors. That was enough for a while
Because the jars can be neatly placed next to each other, each with its own color, the colors do not get mixed up so easily.
Wonderful that wet in wet painting over our drawing that we had already made earlier with the beeswax.
This way you get an enchanting scene. The colors of the paint flow into each other, and what you had previously drawn with the beeswax reappears.

The kids love it and loved it. And the teachers are very happy with the holder. The paint is easy to set aside without spilling. It stands firm. The colors are easy to see and the brush is nice for it little pot (or if you put the holder the other way around, of course).

Since the introduction of the crayons and the paint container has been worked with many times. Not just by the kids. Our older children, aged 8 and 9, also grab the crayons and paint jars.
We are creatively active every day with these items. It is easy to grab and the crayons are quickly cleaned up in the beautiful bag supplied.


I want Astrid (@wwwcreationsbyastrid) for writing this blog. For more inspiration I would take a look at her instagram page - Melanie