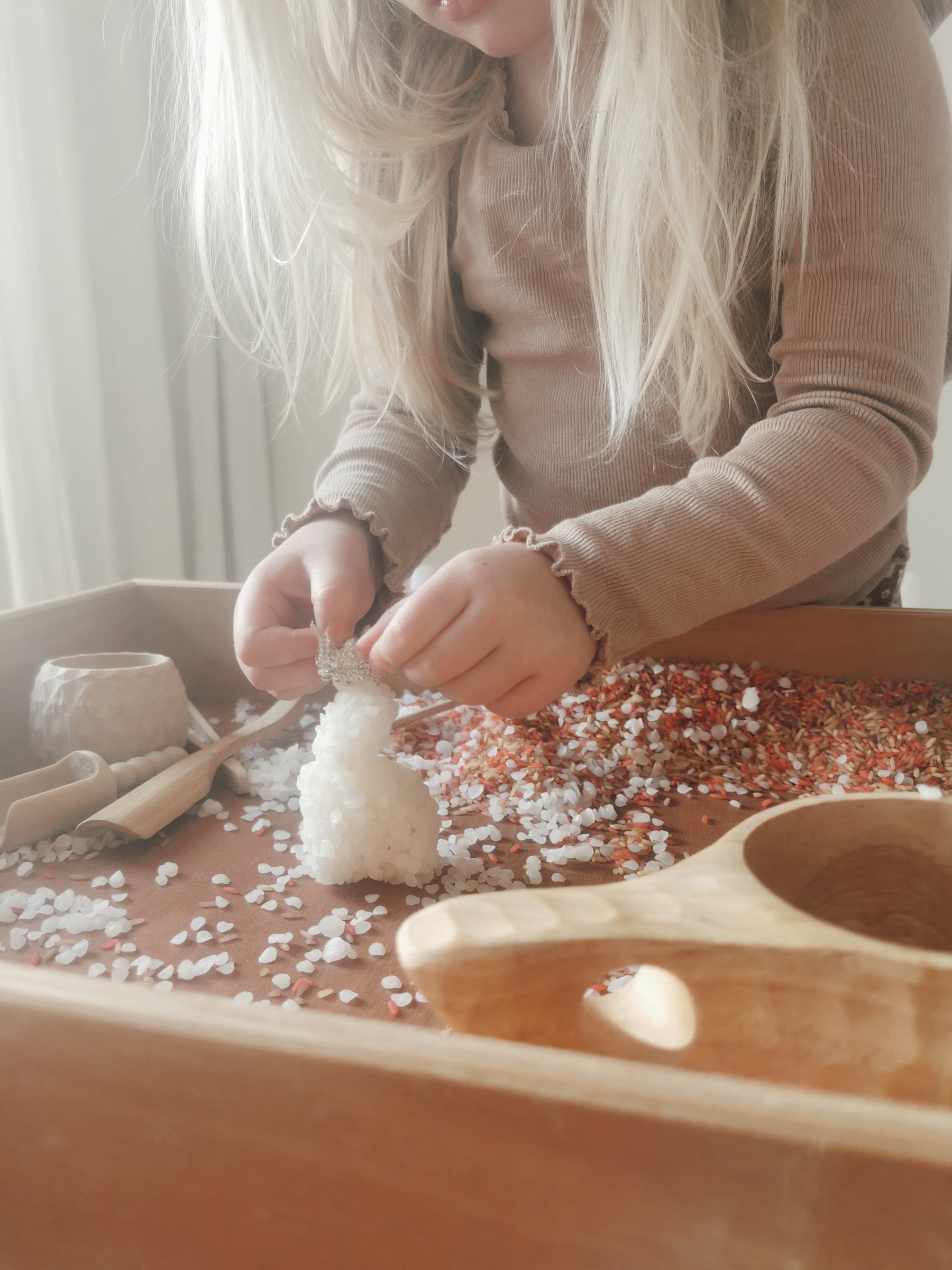 Make your own candle
Make your own candle
What do you need:
- Glass jars
- Beeswax granules
- Rope
- Wick
- Small pour pan
- Possibly cinnamon or aesthetic oils for the scent

To decorate:

- Gems
- Mandarin or orange
- Confetti chips
- Letter beads


To fix the wick you can use the following:

- Two iron wires
- Satay sticks



Step 1:

Cut the mandarin / orange into slices and let them dry in the oven. I used the airfryer myself because our oven is too big for a few slices. I set the airfryer to 100 degrees for 25 minutes. The thinner the slices, the faster they dry.


Step 2:

Do the beeswax granules in a small pouring pan and let it melt slowly. As soon as it has melted, the fire can be turned off. Never let a child do this independently!


Step 3:

Fasten the wick in it glass jar with a drop beeswax. You can do this very easily by dipping the iron into the pan and then into it little pot to stab.


Step 4:

Slowly pour the melted beeswax in the jar. Make sure the wick stays in the middle. I took 2 iron wires myself to clamp the fuse in between. It little pot should not be filled to the brim. After solidifying, the beeswax sinks a bit. To ensure that it becomes a well-filled candle, pour a second layer on top.


Step 5:

Let the beeswax solidify well. After 2 hours it has hardened enough to apply a second layer. Repeat step 2 and step 4.

Step 6:

When the candle has solidified far enough, you can start decorating the candle. The mandarin/orange slices are now dried and you can use them for decoration.
Our 4 year old was able to do this independently. She has the slices and gems tucked into the top top layer.


Now everything can harden completely and you can light the candle.

Extra fun to decorate:

- add wax confetti shreds to get a colorful effect


- Make a 'secret' message for your dearest neighbour, girlfriend or miss. When the first layer has hardened properly, you can place the letter beads on it. Pour a second layer on top so that the message remains a surprise.


Would you like the candle to smell nice. Add some aesthetic oils or cinnamon when melting the beeswax granules.

Lots of crafting fun. If you have made a candle, we would love it if you shared your creation with us. Tag us with @grennn.nl on instagram!